MamaRoo®4, it moves like you do
The 4moms MamaRoo®4 infant seat replicates the way parents naturally move when comforting their baby. It includes five different moves, five speeds and 4 natural sounds which you can all control from your smart device.
Collection
5 unique motions and 5 speeds
It includes
five motions
: car ride, kangaro, tree swing, rock-a-bye and wave.
They are based on
real parents' moves
, recorded using motion sensors.
Each motion combines horizontal and vertical moves.
It also includes
5 speeds
to soothe or entertain the baby.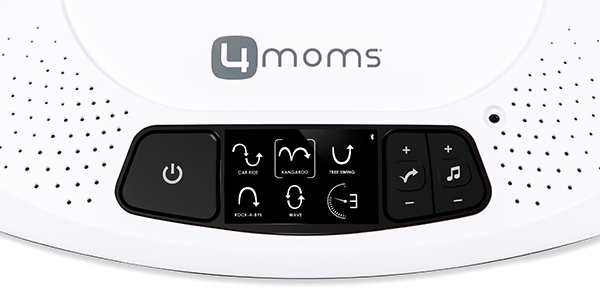 4 sounds and connection for devices
It includes 4 natural sounds or
white noises
, that help the baby relax and sleep.
It also comes with a
connection for devices
(MP3, MP4, iPod, iPhone, smartphones, …) so you can play you favorite music or even you own voice.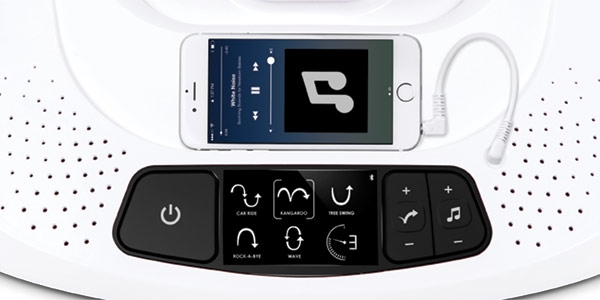 Compatible with smart devices
The baby swing comes with the Bluetooth Low Energy technology that allows you to control the type of motion, the speed, the volume or the sound from your smartphone or your tablet (from
compatible devices
), without getting up or waking the baby up.
Download the app for iOS
Download the app for Android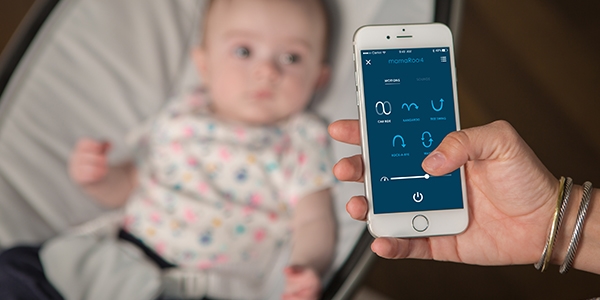 Reversible toy balls
It includes a three
reversible
toy balls overhead mobile. Up to 4 months in black and white, and from this age in colors to stimulate the vision.
A rattle, a mirror and a crinkle ball will stimulate
interactivity
, senses and keep the baby entertained.
The play balls have the
right size
so he can grab them with his hands, bite and experiment.
The overhead mobile with the toy balls moves along with the mamaRoo4 and the baby, which makes it very
soothing
.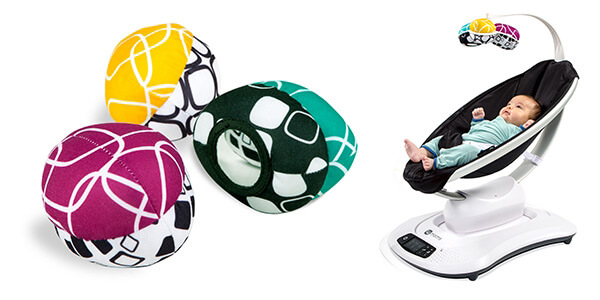 Seat recline
The baby swing has an adjustable seat that can recline to any position along the axis.
To provide extra support and comfort to the baby, the
newborn insert
can optionally be used (sold separately).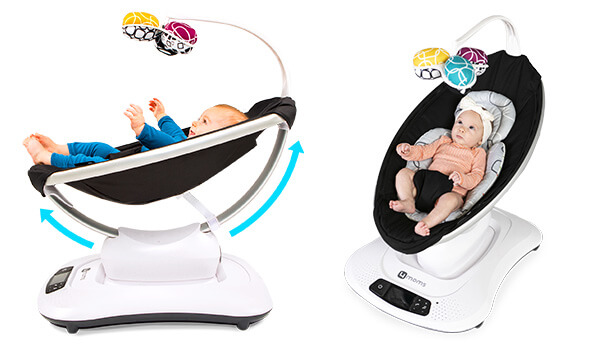 The newborn insert is available in two models:
Removable seat fabric
Removable and machine washable seat fabric.
Additional Information
It complies with the EN 12790.2009 safety standards for its use until the baby reaches 9 kg or can sit up unassisted (whichever comes first).
It works with an AC adapter.
It detects obstacles and automatically stops moving if an object is in its way.
Weight
: 6,3 kg
Dimensions in the box
: 66 x 54 x 21 cm
Dimensions oustide of the box
: 61 x 51 x 86 cm