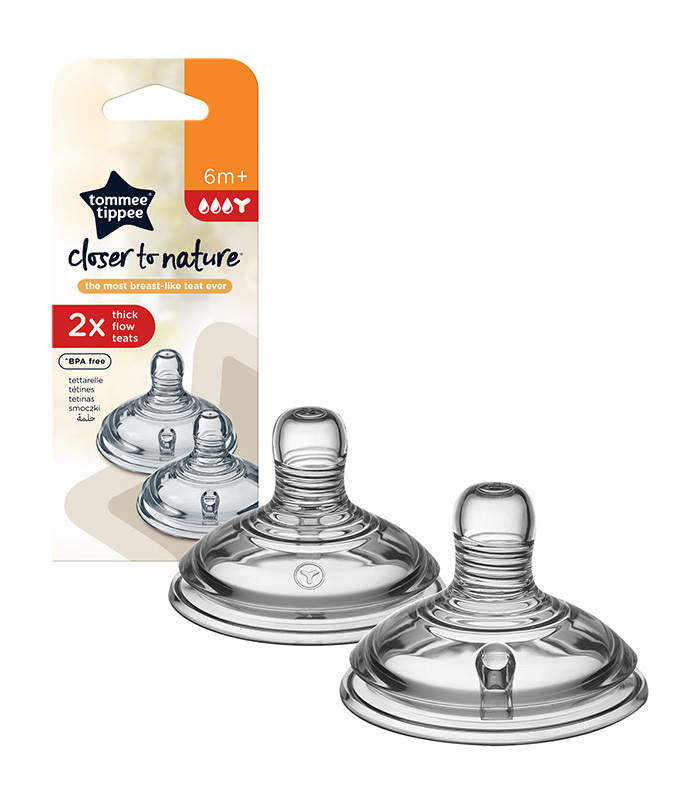 ---
Tetina Tommee Tippee Closer to Nature Flujo Grueso (cereales), a partir de 6 meses, 2 unidades
La tetina Closer to Nature de Tommee Tippee tiene forma de pecho para asemejarse al pecho materno y facilitar así un agarre natural y la transición entre la lactancia materna y la alimentación con biberón. Su válvula anticólico integrada ayuda a prevenir los síntomas de los temidos cólicos.
La tetina de flujo grueso está especialmente recomendada para cereales,
a partir de los 6 meses
.
Son compatibles con los
biberones Closer to Nature
de Tommee Tippee, tanto de polipropileno como de cristal.
Tetina con forma de pecho
La tetina Closer to Nature tiene una forma similar a la del pecho materno y ha sido fabricada en suave silicona para que se
asemeje más a la piel
.
Gracias a las ondas patentadas del interior, la tetina
se mueve y estira
como un pezón.
Aceptada por los bebés
Su forma similar al pecho materno fomenta un
agarre natural
por parte del bebé. Según un estudio realizado en 2021 con 524 padres y madres que utilizan biberones Tommee Tippee, el 95% asegura que su bebé aceptó la tetina de la marca.
Válvula anticólico
La tetina incorpora una válvula anticólico ultrasensible que
reduce el flujo de aire excesivo
, para que así el bebé trague más leche y menos aire, evitando los síntomas de los cólicos.
Sin BPA
Los productos de Tommee Tippee están libres de BPA y ftalatos.
Además, estas tetinas son
fáciles de limpiar
en el esterilizador, a mano o en la bandeja superior del lavavajillas.
Gama Tetinas Closer to Nature
Las tetinas Closer to Nature de Tommee Tippee están disponibles en varios flujos: lento (a partir de 0 meses), medio (a partir de 3 meses), rápido (a partir de 6 meses) y cereales (a partir de 6 meses).
Las tetinas se sirven en packs de dos o seis unidades (dependiendo del flujo).
Gama Biberones Closer to Nature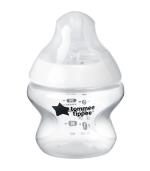 150 ml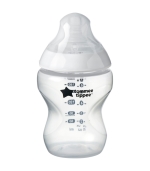 260 ml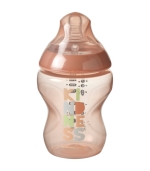 260 ml Kindness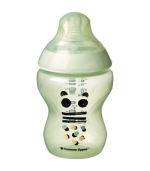 260 ml Pip el Panda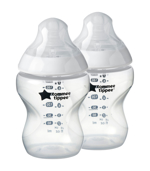 260 ml x2 Transparente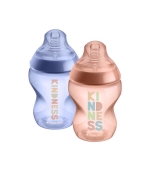 260 ml x2 Kindness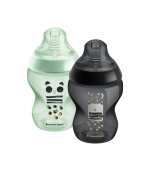 260 ml x2 Ollie y Pip
260 ml x3 Blanco Rosa y Verde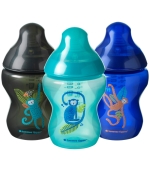 260 ml x3 Jungle Blue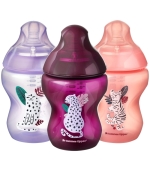 260 ml x3 Jungle Purple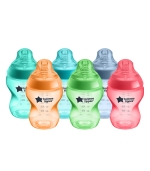 260 ml x6 Bright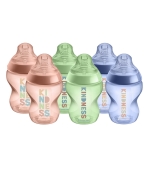 260 ml x6 Kindness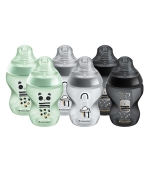 260 ml x6 Ollie Pip Nube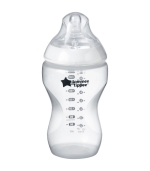 340 ml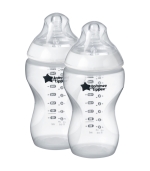 340 ml x2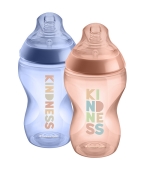 340 ml x2 Kindness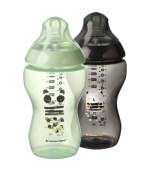 340 ml x2 Ollie y Pip