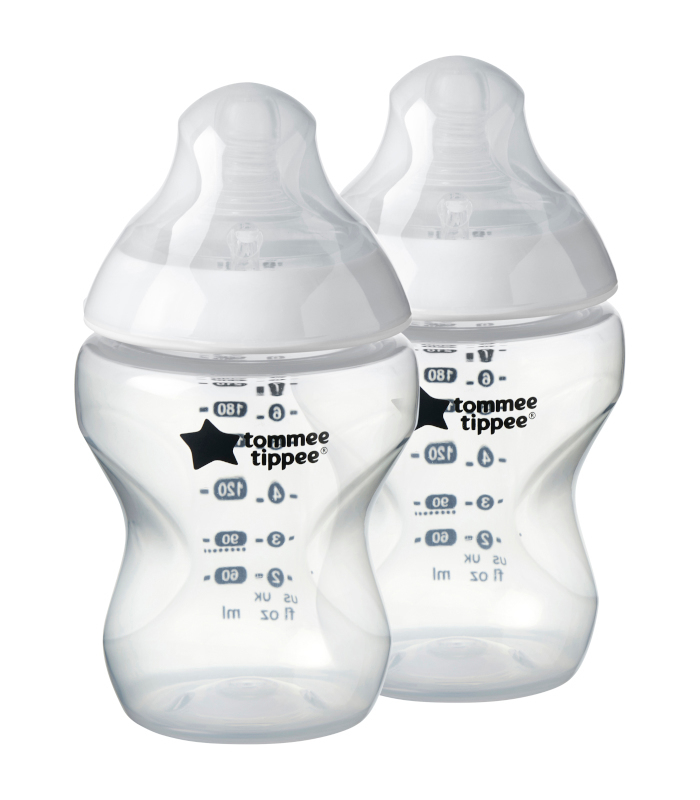 ---
Biberón Tommee Tippee Closer to Nature 260 ml, pack de 2 unidades
Con los biberones Closer to Nature de Tommee Tippee, es más fácil que nunca combinar el pecho con el biberón. La suave tetina de silicona en forma de pecho y con válvula anticólico integrada hacen que el bebé succione de forma intuitiva y que la hora de la comida sea cómoda y apacible.


Con forma de pecho
La tetina de silicona blanda con forma de pecho se asemeja más a la piel y, gracias a sus ondas flexibles y elásticas, se estira y flexiona durante la toma para imitar el movimiento del pezón materno.


Fácil agarre
La forma de mama de la tetina Closer to Nature permite que el bebé la coja fácilmente, fomentando un agarre natural y ayudando en la transición entre biberón y pecho.

Según un estudio realizado en 2021 con 524 personas que usan biberones Tommee Tippee, el 95% de las mamás asegura que su bebé aceptó la tetina Closer to Nature.


Válvula anticólico
La válvula anticólico de alta sensibilidad reduce una excesiva circulación del aire para que los bebés traguen más leche y menos aire, lo que previene los síntomas de cólico.


Forma compacta
Los biberones Closer to Nature se han diseñado para sujetarse en la posición más natural durante la toma y te permiten tener más cerca al bebé.


Sin bisfenol A (BPA)
Para tu total tranquilidad, ninguno de nuestros productos contiene bisfenol A (BPA).


Especificaciones de producto
Tamaño: 260 ml (2 unidades)
Tetina incluída: Flujo Lento (nº 1: a partir de recién nacido)
Material: Tetina de silicona, biberón de plástico (PP)
Medidas Producto: 17,25 x 8,1 x 7,95 cm (alto x ancho x prof)
Compatible con tetinas Closer To Nature de Tommee Tippee.