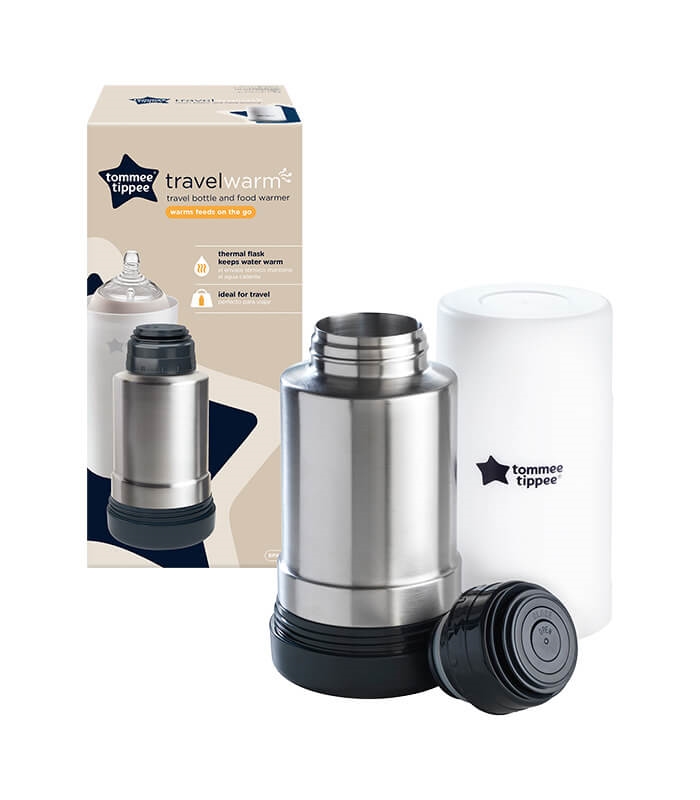 ---
Termo Calentador de Viaje de Tommee Tippee
El termo calentador de viaje de Tommee Tippee es perfecto para
calentar los biberones y la comida del bebé
durante las escapadas, ya que es compacto, fácil de utilizar y no necesita electricidad.
Aislamiento térmico
El termo de acero inoxidable almacena el agua caliente de forma segura y
mantiene su temperatura
sin necesidad de una fuente de calor externa ni electricidad, por lo que es ideal para calentar el biberón o la comida del bebé cuando estés fuera de casa.
Fácil de utilizar
Este termo calentador de viaje es muy fácil de usar:
Llena el termo de acero inoxidable con agua caliente y cierra la tapa.

Cuando tengas que calentar el biberón o la comida del bebé, dale la vuelta a la tapa y vierte el agua del termo en ella.

Coloca el biberón o el potito del bebé en el agua para calentarlo.

Una vez caliente, retira el biberón o el recipiente de comida y comprueba la temperatura antes de dárselo al bebé.
Compatible con la gama Closer to Nature
Este termo calentador se adapta a los biberones de la gama Closer to Nature de Tommee Tippee, así como a una amplia variedad de marcas de potitos y alimentos infantiles.
Perfecto para los viajes
Tiene un diseño portátil y cómodo que cabe perfectamente en el bolso-cambiador para que lo puedas llevar a todas partes. Además, cuenta con una
tapa antigoteo
para mayor tranquilidad.
Sin bisfenol A
Todos los productos de Tommee Tippee están libres de bisfenol A, para tu total tranquilidad.