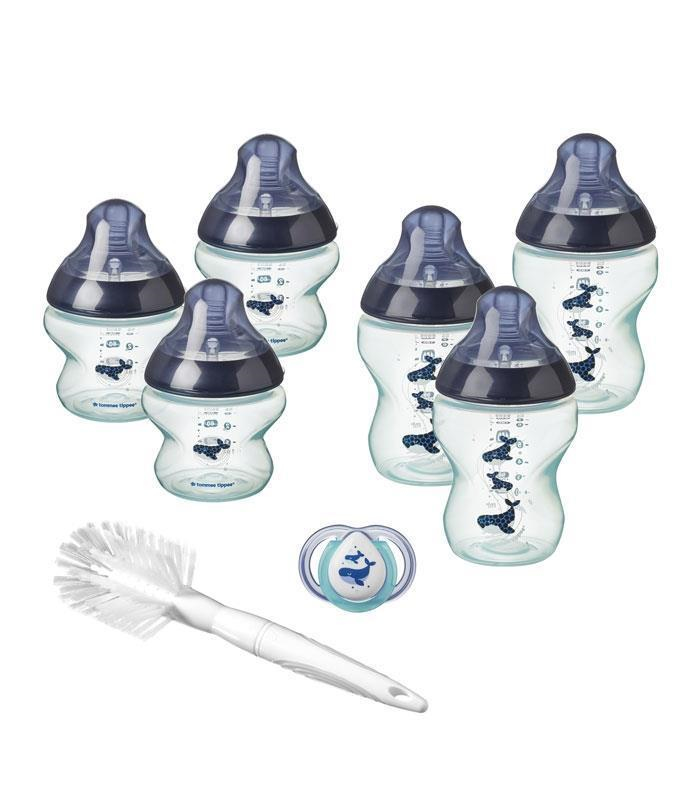 ---
Kit de Biberones para Recién Nacidos Closer to Nature Ballenas
El kit de iniciación para recién nacidos contiene lo necesario para los primeros meses del bebé, como biberones de diferente tamaño, un cepillo para la limpieza de biberones y tetinas, y un chupete apto desde los 0 hasta los 6 meses.
Contenido del pack
- 3 biberones Closer to Nature de 150 ml con tetina flujo lento.
- 3 biberones Closer to Nature de 260 ml con tetina flujo lento.
- 1 chupete Closer to Nature Any Time de 0-6 meses.
- 1 cepillo para limpiar biberones y tetinas.
Pack para venta online o por catálogo (no dispone de packaging para exposición en tienda).
Biberones con tetina en forma de pecho
Desarrollada en colaboración con expertos en lactancia y madres, la
tetina
de estos
biberones
tiene
forma de mama
para que el bebé se agarre fácilmente y ayudar así a la transición o combinación entre pecho y biberón.
La tetina está realizada en
suave silicona
que se asemeja más a la piel y, gracias a las ondas flexibles y elásticas, se estira y flexiona durante la toma para imitar la acción natural de amamantar.
Cuenta con una
válvula anticólico
de alta sensibilidad que ofrece una mejor aireación para que sea más fácil dar el biberón y reducir el riesgo de que el bebé trague aire.
Los biberones tienen una
forma ergonómica
para poderlos sujetar en la posición más natural durante la toma.
Cepillo para biberones y tetinas
El cepillo cuenta con duraderas cerdas de nailon y mango antideslizante para limpiar los biberones y las tetinas de forma fácil y eficaz.
Chupete Any Time
El chupete cuenta con una
tetina simétrica, anatómica y reversible
especialmente diseñada para optimizar la aceptación del bebé y contribuir a un saludable desarrollo oral.
Seguros para el bebé
Ninguno de los productos de Tommee Tippee contiene Bisfenol A (BPA).
Colección de Kits de Biberones para Recién Nacido
En el catálogo de Tommee Tippee podemos encontrar otros kits de biberones para recién nacidos, tanto en la gama Closer to Nature como en la Anticólico Avanzado.