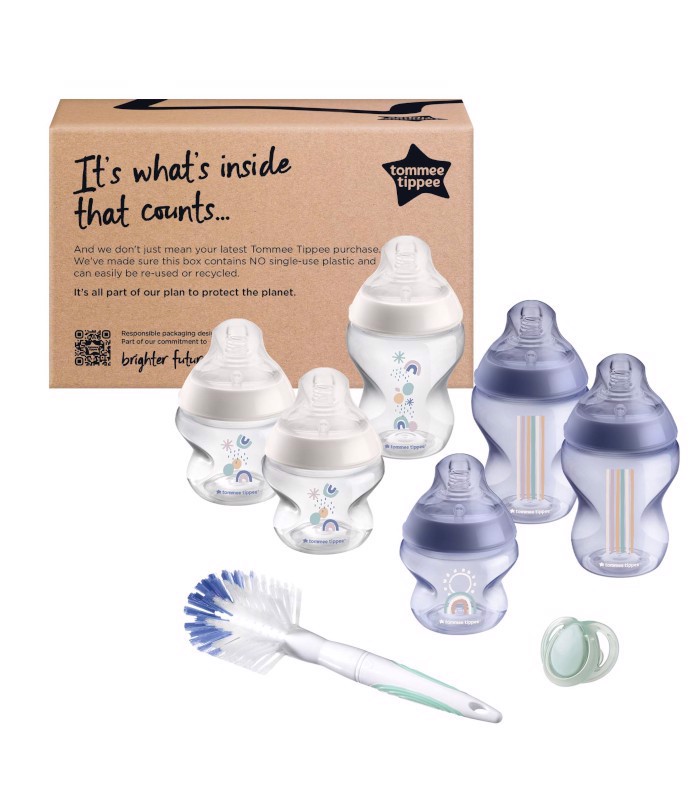 ---
Kit de Biberones para Recién Nacido Tommee Tippee Closer to Nature, Azul y Blanco
El Kit de Iniciación para Recién Nacidos Closer to Nature de Tommee Tippee contiene los artículos esenciales que tu bebé necesitará durantes los primeros meses: biberones de diferentes tamaños, un chupete nocturno y un cepillo para limpiar los biberones y tetinas.
Contenido del Kit
Este kit de iniciación para recién nacidos incluye:
3 biberones Closer to Nature de 150 ml con tetina de flujo lento (a partir de 0 meses) (2 blancos y 1 azul)

3 biberones Closer to Nature de 260 ml con tetina de flujo lento (a partir de 0 meses) (2 azules y 1 blanco)

1 chupete nocturno de 0-6 meses

1 cepillo para limpiar biberones y tetinas
Biberones con forma de pecho
Los biberones tienen la tetina de silicona con forma de pecho, que imita el movimiento y la textura del pecho materno para una toma más cómoda y una transicón más sencilla entre el pecho y el biberón.
La tetina Closer to Nature cuenta con una
válvula anticólico integrada
que disminuye la circulación del aire para que los bebés traguen más leche y menos aire, previniendo así los síntomas de los cólicos.
Según un estudio realizado en 2021 con 524 personas que usan biberones Tommee Tippee, el
95% de las mamás
asegura que su bebé aceptó la tetina Closer to Nature.
Chupete nocturno
El chupete Night Time de Tommee Tippee tiene la
tetina de silicona simétrica
, anatómica y reversible, que ha sido especialmente diseñada para optimizar la aceptación por parte del bebé y contribuir a un desarrollo oral saludable.
El escudo del chupete cuenta con un anillo que
brilla en la oscuridad
, para que sea más fácil encontrarlo durante la noche.
Cepillo limpiabiberones
El cepillo está específicamente diseñado en
dos partes
para limpiar tanto biberones como tetinas y es más ancho para llegar a las zonas más difíciles. Cuenta con duraderas cerdas de nailon y mango antideslizante para limpiar los biberones de forma fácil y eficaz.