SWINGFIX M i-SIZE
ECE R129 (i-Size) - 61 - 105 cm or 18 kg

Homologated according to ECE R129 (i-Size) standard, the
SWINGFIX M i-SIZE
is
exclusively
oriented in the
rearward facing position from 61 cm to 105 cm in height
or 18 kg (whichever comes first). It is perfect for use after the infant carrier up to approximately 4 years old. It also rotates
90° towards both sides
for easy placement and harnessing of your child. It is one of the few seats that has passed the demanding Swedish
Plus Test
.
Designs
The SWINGFIX M i-SIZE is available from
authorized dealers
.
With Plus test seal
Exclusively oriented rearward facing
from 61 cm to 105 cm or 18 kg, the SWINGFIX M i-SIZE is certified by the demanding Swedish
Plus Test
, a very demanding and voluntary test that measures a car seat's ability to protect the head and neck in a frontal impact.
In the event of a frontal collision with a rearward facing seat, the impact forces are directed to the seat's backrest, while the rest of the energy is distributed evenly across the head, neck and upper body.
90° Rotation
Rotates 90°
to either side for positioning and buckling the child from the open car door and can be rotated to any recline position.
Maximum comfort for the child
The seat reclines in six positions
for maximum comfort whether the child is awake or asleep.
The
rebound bar
can be adjusted by an entire 8º to adapt better to the car seat and offers up to 10% of additional leg space.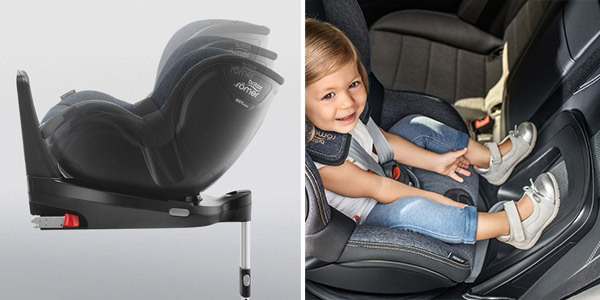 Comfort Insert as an accessory
The SWINGFIX M i-SIZE does
not include or is compatible with the newborn insert
. The
Comfort Insert
, that can optionally be purchased, covers up to the child's lower back and helps to reduce the space between small children and the sides of the car seat, thus providing greater comfort.
Greater lateral protection
The side impact absorption system
SICT inside
is integrated into the car seat shell and is always ready to act in the event of a collision, without the necessity to adjust it.
The
V-shaped headrest
is designed to control head movement in the event of a side collision, while providing comfort. It can easily be adjusted with one hand, together with the five-point harness, to suit your child's growth.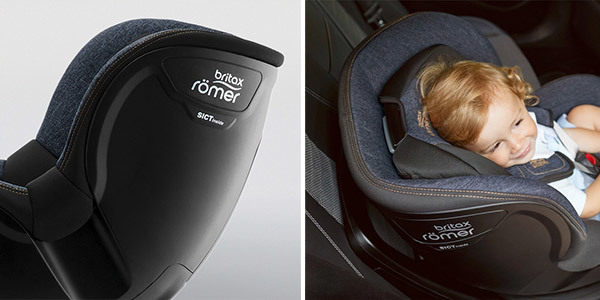 5-point harness with neoprene chest pads
The soft chest pads, made of high-quality neoprene, reduce the child's forward movement in the event of an impact and add even greater comfort to the 5-point harness.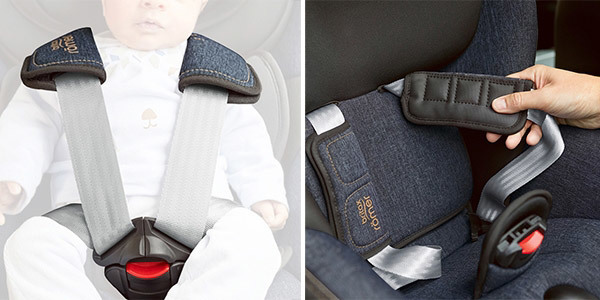 Safe installation
The SWINGFIX M i-SIZE is installed with ISOFIX and support leg. As it is an i-Size chair, it is compatible with any vehicle seat approved as i-Size. For the cars without i-Size seats, it is necessary to check the compatibility in the
list of approved vehicles
.
Removable cover
Both the seat cover and chest pads can easily be taken-off for machine washing without removing the harness.
Made in Germany
The DUALFIX i-SIZE has been designed, developed and manufactured entirely in Germany, after undergoing numerous internal tests at the brand's own crash test facility, (one of the most modern in the world), while the seat cover is produced in Europe.
Product specifications
Rearward facing from 61 cm to 105 cm height or 18 kg weight
Weight
: 15 kg
Dimensions
: 48 x 44 x 74 cm (height x width x depth)
Homologation
: ECE R129 (i-Size)