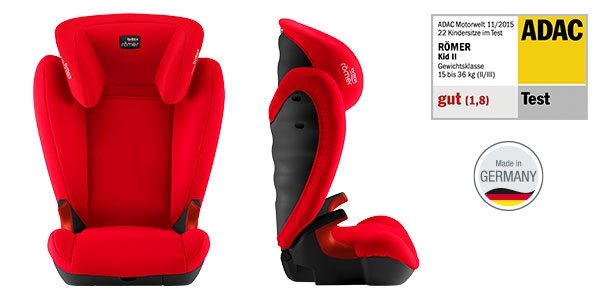 KID II, safety that moves with you
ECE R44/04 - Group 2/3 (15-36 kg, 4-12 years, approx.)
The KID II highback booster (15-36 kg) is perfect for easy transfers from one car to another, thanks to its lightweight and the installation with the vehicle's three-point seat belt. And thanks to the V-shaped backrest, it offers more space for the back and shoulders as your child grows.
Side-impact protection
Britax Römer boosters with backrest protect your child in three ways: the device's shell with thick, softly padded side wings provides protection
from head to hip
, especially in the event of a side impact;
the upper and lower guides
ensure that the 3-point seat belt is correctly positioned over the shoulders and hips; and the
padded headrest
provides safety and comfort for your child's head and neck.
Easy-to-adjust ergonomic headrest
The headrest is ergonomically designed so that the child sleeps in the correct position. It can be adjusted to the optimal height, just above the child's shoulders, with one hand, even when the child is occupying in the car seat.
V-shaped backrest
Designed to provide maximum protection and adapt to the child's growth, the
V-shaped backrest
offers more space for the child's back and shoulders. In addition, because it is
tilting
, the backrest automatically adjusts to the angle of the car seat, providing a better fit and a comfortable position for the child.
Belt installation
To fit more cars, it is universally approved for installation with the 3-point
seat belt
.
The KID II is easy to move between different cars thanks to its
lightweight
shell.
Removable cover
It is easy for the car seat to get messy: a drink can spill or the child may get car sick. That's why we have designed a seat cover that can easily be removed and machine washed.
Product specifications
Weight
: 5.8 kg
Dimensions
: H 67-85 cm x W 51 cm x D 38 cm
Approval
: ECE R44/04