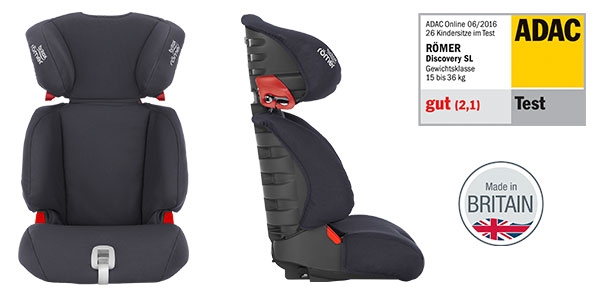 DISCOVERY SL, with lightweight shell and Isofix Soft Latch
R44/04 - Group 2/3 (15-36 kg)
Made in Great Britain, the DISCOVERY SL highback booster is practical, light and safe for children from 15 to 36 kg. It is installed is quickly and easily, thanks to the Isofix Soft Latch system, although to adapt to more vehicles it can also be installed with a 3-point seat belt.
Where to buy?
Designs
Side impact protection
Britax Römer highback boosters protect your child in three ways: the seat shell, with thick and soft padded side wings, provides
head to hip
protection, especially in the event of a side impact; the
upper and lower guides
ensure that the 3-point seat belt is positioned correctly on the shoulders and hips, and the
padded headrest
provides safety and comfort for the child's head and neck.
Easy to adjust, ergonomic headrest
The
ergonomic design
of the headrest keeps the child asleep in the correct position. It can be adjusted to the optimum height, just above the child's shoulders, with one hand, even when the child is sitting in their chair.
Tilting backrest
The tilting backrest
automatically adjusts
to the angle of the vehicle seat, providing a comfortable position for the child.
Installation with Isofix Soft Latch or seat belt
Quick and easy installation is allowed thanks to the
flexible ISOFIX Soft Latch connectors
, which are individually fixed, making them easier to find and attach to the ISOFIX anchors of the car. Check the compatibility on the
list of approved vehicles os
.
To fit more vehicles, it can also be installed with the
3-point seat belt
.
The DISCOVERY SL is easy to move between different cars thanks to its
lightweight
shell. It is up to 30% lighter compared to other highback boosters in the KIDFIX range.
Removable cover
It is easy for the car seat to get messy: a drink can spill or the child may get car sick. That's why we have designed a seat cover that can be easily removed and machine washed.
Product specifications
Dimensions
: 67 - 85 x 44 cm x 45 cm (height x width x depth)
Weight
: 4.3 kg
Approval
: ECE R44/04